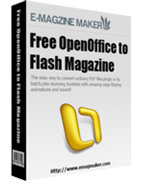 FREE
For Windows 7, Vista, XP

Free OpenOffice to Flash Magazine
100% free to create amazing magazine with OpenOffice files!
With Free Open OpenOffice to Flash Magazine, you can convert OpenOffice format files to digital flash magazine, page-flipping brochures and interactive catalogs for both online and offline use. It is very easy to operate, just three steps, within 10 minutes, you can creating impressive page-flipping magazine form OpenOffice&LibreOffice files by yourself. The free program provides dozens of powerful functions, like add background sounds/image, change the interface layout, and insert icon and hyperlink etc. The output result can be share online, for PC, Mac even mobile device users.
Download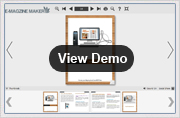 Flash Player 10.0+
Why Use?
Features
Screenshot
How It Works
1. 100% Freeware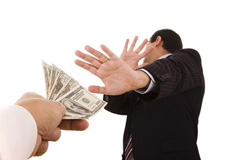 Free OpenOffice to Flash Magazine is 100% freeware. You can use it to convert unlimited OpenOffice&Libre OpenOffice documents to digital flash magazine, page-flipping brochures and interactive catalogs for both online and offline use, and needn't pay any fee. With Free OpenOffice to Flash Magazine, the only things you should to do is that download free version and then enjoy the free convert trip.
2. Easy and effective operate process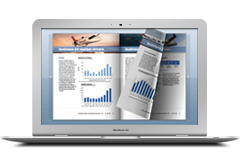 Free OpenOffice to Flash Magazine is easy to use for its standardized conversion mode. Just three steps, you will create a stunning flipping-magazine form any OpenOffice file. No more programming knowledge or Flash technology. What's more fantastic, you can use the easy-to-use software to design unique magazines in minutes. Dozens of template design settings will help you make a totally different and stunning eBook.
3. Outstanding End-user Experience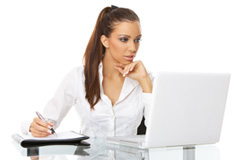 You and your end-users satisfaction is our eternal pursuit. Use Free OpenOffice to Flash Magazine to convert OpenOffice to a reality page-flipping flash magazine , the end-users will read the amazing books online or offline as if they are holding an actual magazine in hands. Real page-flipping animation and sound, fantastic background music, bookmark or thumbnail navigation, will make your digital book more outstanding than real book.
4.Dozens of Sharing Ways to Get more Readers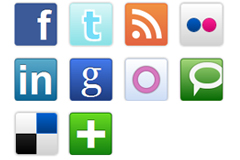 About Free OpenOffice to Flash Magazine, there is another worth to mention feature, the email share and social share function. After your magazines published online, it's very convenient for you and your friends, fans to share the magazine in the internet via and social share websites, Facebook, Twitter, Google, LinkedIn, Digg., all these wonderful sharing channels will make more people know and read your books.
5. Wonderful Technical Support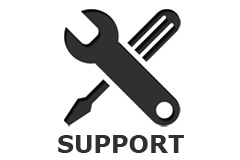 We have a team of best-in-class industry-certified software development professionals, which includes project managers, software engineers, testers and designers who can adapt to your every need. The use of advanced technologies coupled with our unique capability and innovation helps create quality custom applications and solutions for our clients.
6. Friendly Customer Service
Emagmaker.com will provide friendly service for you. If you encounter any problem or have any question, please contact our customer service team. We are here to help you every step of the way. Email support from our in-house team is available to you at the normal working time . Graphical, easy to use handbooks, wizards and video tutorial will guide you effortlessly through creating a great magazine.
7. Update Any Time That You Want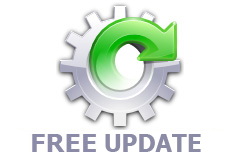 As our product continuously updates, your version might fall behind. But don't worry, you can free download the latest version of the software from the Emagmaker.com at any time, update painlessly, trouble free and with no disruptive downtime. And all later update versions will be free for all users.
The Freeware OpenOffice to Flash Magazine also have many powerful features!
1. Powerful software

The biggest feature in Free OpenOffice to Flash Magazine is powrful. It is allows you to convert all your OpenOffice files into digital publications, on and off-line use, in just minutes. You can produce as many publications as you like , no minimum pages, no monthly charges, and with all the customization you want.
2. Easy to convert

It is very easy to convert, just three simple steps you can create a amazing flash magazine form scan documents. The OpenOffice→Free OpenOffice to Flash Magazine software →Page-flipping Magazine, an stunning flipping-page digital magazine will be done.
3. Enable Print, Download

Enable readers to have more access to your publication, you can set Print, Download features to allow book readers can print, download your digital magazine directly. This totally depends on how tightly you'd like to control the circulation of your publication.
4. Free templates download

With Free OpenOffcie to Flash Magazine, We're provide some free templates for those people who don't have enough time to pro-edit or don't want spent energy to design the magazine size, color. Those free templates could save a lots time for you and it will make you flash magazine extraordinary.
5. Tool bar Settings

Helping to control the magazine's tool bar like zoom config, download setting, share button , home button and Auto Flip. Enable you manager the authority of flash magazine, let you readers to print, download depends on how much tighten you want to control.
6. Page Index and Bookmark

With convenient function of page index/book mark in Free OpenOffcie to Flash Magazine, readers can navigate quickly to any page within your publication using a thumbnail display of your pages or bookmark in magazine
7. Email Share/Social Share

With Free OpenOffice to Flash Magazine, you can Share your stunning flash magazine to your friends, partners via email or even share through Facebook, Twitter and other website directly. Avoid the trouble of open these social share websites to re-log in.
8. Google analytics integrated

Google analytics integrated is a wonderful feature that helps you to track you book reading data. Every "move" on your published magazine will be recorded and analyzed, and you will be enabled to see which part is being focused on, also helps to measure your advertising ROI as well as track everything within the publications.
9. Multiple output modes Integration

Besides common HTML, ZIP, EXE and APP format to output, Free OpenOffice to Flash Magazine also helps to make your amazing digital flash magazines to be accessed through mobile devices, iPhone, iPad, and android. Even you can burn your books to CD or DVD to send to customers directly.
10. Mobile Devices Support

Allow your amazing digital flash magazines to be accessed through the mobile devices (iPhone, iPad, android, etc.) without the extra expense of an app. Let you readers enjoy the reality flipping magazine feeling when he/her drag the magazine page corner at the phone.