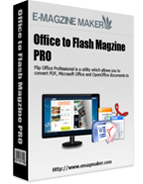 $328
For Windows 7, Vista, XP

Office to Flash Magazine Pro
Convert MS office to page-flipping flash magazine and insert sound, movie, and multimedia on each pages!
Office to Flash Magazine Pro is very easy to use. It helps to convert ordinary office document to amazing page turning flash magazine with three steps. More detail features including:
Insert Web Link, Page Link, Email Link into each page as you want;
Add products tutorial, presentation, company promote films and video in flash magazine;
Embed YouTube flash video from internet by import Video ID directly without downloading;
Add images and present embedded images in slideshow mode;
Different reading modes including zoom in/out ,Fullscreen, minime style, single/double pages;
Define book title, import brand logo icons and set website URL.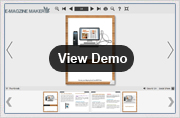 Flash Player 10.0+
Why Use?
Features
Screenshot
How It Works
Office to Flash Magazine Professional is software that could convert Office documents to amazing Flash magazine into powerful and wonderful Flash e-Magazines with realistic page-flipping effect. Besides the wonderful page turning animation, you will also able to add page turning sound, background. In addition, videos, audios, links and images can be embedded into each pages. And converted Flash magazine can be read in PC, Mac, Mobile device (iPhone, iPad, Android, etc) or from CD/DVD.
More detail uses about Office to Flash Magazine Professional!
1. All MS Office files can be converted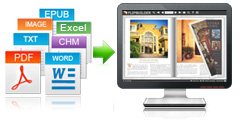 Office to Flash Magazine Professional can be used to convert all kinds of Office documents to digital magazines. Microsoft Office document (docx;*.pptx;*.xlsx), Publisher, Infopath (*.xml;*.xsn), Visio ( *.vso), Compiled HTML Help (*.chm) , OpenOffice files like *.ods, *.odt, *.odp, *.odb, *.odg, TEXT document (*.txt), RTF document (*.rtf), etc.
2. Easy and Quickly Operation Converter
In order to meet the needs of today's fast-paced, Office to Flash Magazine Pro enables you to convert OFFICE to flash magazine easily and fast, not any programming skill is needed . Create a stunning flipping-page digital magazine in only three steps: Import OFFICE, Edit magazine style, Convert to Flipping Book . Amazing software, isn't it?
3. Professional enough for Professional Magazine Designers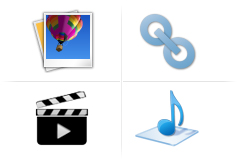 Compare to original standard version and many other flipping book building tools, Office to Flash Magazine Professional version develops more powerful and excellent features to create amazing Flash publications with ease. You can embed Hyperlink, Movie, Swf Flash, YouTube etc.. More flexible feature about the program is that you can build your wanted features into books with using JavaScript function directly.
4. Convert Mobile Compatible Magazines
Office to Flash Magazine Pro has the function that you never thought about. It is able to create HTML, ZIP, EXE, APP format eBook., And more importantly, Office to Flash Magazine Pro allows to publish mobile version at the same time. Thus, readers can view your flipping-magazine at anytime on computer or mobile device like iPhone, iPad Android, etc.
5. Sharing Ways to Get more Readers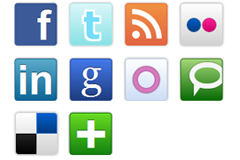 About Office to Flash Magazine Pro, there is another worth to mention feature, the email share and social share function. After your magazine published online, it's very convenient for you and others to share the magazine via the internet on social share websites such as FaceBook, Twitter, Google, LinkedIn, Digg. All these wonderful sharing channels will let more people know and then read your books.
6. Various Technical Support Modes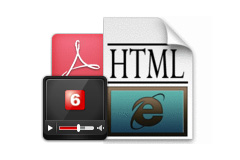 While using Office to Flash Magazine Pro, you can get many related facilities as support, like Graphical and easy to use handbooks, wizards and flash tutorials guide. All these support modes will help you to create a great magazine effortlessly. Besides, you can send questions to our support center at any time: [email protected]
7. Friendly Customer Service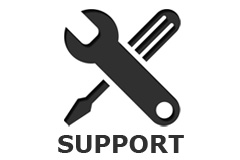 Have a question about the software? Need a technical service recommendation to your magazine creation? Or want to know our future update plans? Just contact our friendly customer service center directly, 24 hours a day, 7 days a week. Send you messages to [email protected], we will try our best to help you solve problem and answer your questions.
8. Unbeatable Price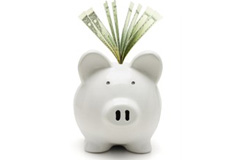 Office to Flash Magazine Pro is our self-developed product which doesn't need to pay extra technology fee. The streamlined business model helps to offer only the highest quality of services at unbeatably low prices. You can benefit from our hugely sort after one-time payment. You are allowed to convert unlimited number of Office files to Digital Magazines.
9. Free, Free, Free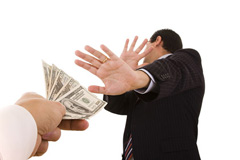 Free Update—You will be free to use all later update versions once you have ordered, no matter the price of the new version raised or not.
Free Templates and Themes—Besides default templates and themes provided in Office to Flash Magazine Pro, we will also publish more free designed themes online in the future.
Free and Unlimited Conversions—Once you ordered the PDF to Flash Magazine Pro programs, you can convert as many books as you want, no extra royalties, one-time fee, and use forever. .
Features
Office to Flash Magazine Professional is powerful program for you to make attractive and amazing Flash magazines. You will easily handle it and use the wonderful features below:
1. Add movie and Flash Swf into Flash Magazine

Nothing speaks louder than a lovely and lively movie or Flash. Insert video and Flash into your magazines, make other eBooks loss their competitive edge.
2. Insert hyperlinks into pages

With Office to Flash Magazine Pro, you may find a new way to increase brand recognition by inserting ads link, web link, or email link.
3. Add unique music on pages

Just imagine, when you read a digital magazine, drink hot coffee, sit in shade, and a soft music plays at your side, isn't it refresh you? PDF to Flash Magazine Pro will make the dream come true. Set music into your digital magazine, have readers enjoy the wonderful reading journey.
4. Embed image and present in slideshow

Office to Flash Magazine Pro allows you to create a customized magazine as photo gallery, with cool slide showing the most recent and most interesting images.
5. Add YouTube videos

YouTube is enormously popular for years, the evidence is that it was bought by Google for US$1.65 billion. Use Office to Flash Magazine Pro, make digital magazine with YouTube videos to attract more attention and get more money.
6. Edit new buttons on pages

Set buttons in your book to call different actions, including go to webpage or internal page, play audio and video, open image slideshow, or even call JavaScript function, etc.
7. Draw print area in magazine

A wonderful feature for all product or shopping catalogs in Office to Flash Magazine Pro, you can draw printable area in pages, allow readers to click and print out the coupon directly from your monthly or weekly magazines.
8. Import easily and export flexibly

Just three steps, you will find how easy it is to create an amazing flipping-magazine with Office to Flash Magazine Pro. Import Office file, design template, and you will get a stunning magazine in format with html, zip, exe or app.
9. Mobile Devices Support

Besides viewing your book on PC and Mac computers, books created with Office to Flash Magazine Pro can be read on mobile devices, including iPhone, iPad and Android. It is so convenient for you to get more book readers on Android market and Apple market.
10. Google Analytics Integrated

You can embed Google Analytics to your published magazine, help to measure and analyze visiting data for each page, better understanding and optimizing your web usage.
11. Email and Social Share Function

With Email and social share button enabled in Office to Flash Magazine Pro, anybody who read your books online can easy connect Email account and social network to share your magazines with their friends and clients via Email, FaceBook, Twitter, Google, Yahoo, Del.icio.us, Digg, etc.