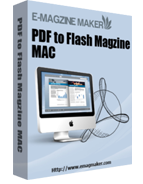 $99
For Mac OS 10.5 or above
(Not for PowerPC)

PDF to Flash Magazine for Mac
Convert PDF to flash FlippingBook for MAC Users!
Convert PDF to flash flipping book on Mac OS;
Different styles and free flippingbook  templates and  themes for you to use;
*.html, *.app and mobile (HTML5) output formats ;
Add hyperlink on Logo and Title to visit your inserted URL pages;
Change book style by dozens of template and background settings;
Integrate background music to make viewers relax;
Google Analytics utilized to let you know your book visited details;
Free TrialBuy Now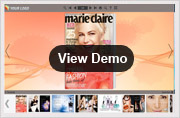 Flash Player 10.0+
Why Use?
Features
Screenshot
How It Works
PDF to flash magazine for MAC makes you enjoy PDF documents as flash flipping magazines, brochures, reports, etc online or offline. It is great page flip software used for converting PDF to flash flippingbook format on Mac OS. It is a standalone and easy-to-handle software, which turns your plain PDF files into dynamic flippingbook within a few minutes. Barely several steps to do: Load PDF file(s), configure each book page effect, convert it, then publish it for online sharing with your friends, company partners, clients,etc.
1. It is quick ,easy and efficient

Quick —PDF to Flash Magazine for Mac offers a "real time conversion. You don't have to wait for hours to start working with your document. Just 3 steps, within 5 minutes, you can convert your PDF document to a Flash magazine.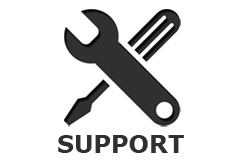 Easy —PDF to Flash Magazine for Mac designs many friendly and intuitive interfaces for users! It is easy to import PDF document, to design template and to output. You'll be surprised that you don't need any help file or any programming knowledge before running the page turning software.

Efficient —The moment you create your Flash magazine, you can set unique template options for your publication! Shorter time, but more stunning digital flipping-magazine you can create with using our PDF to Flash Magazine for Mac. Moreover, you can even output mobile versions books to play on iPad, iPhone and Android devices.
2. It is cheap, affordable and dependable!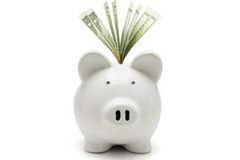 Cheap —PDF to Flash Magazine for Mac, it is a PDF converter,a magazine creator, also an amazing page-flipping presentation builder. Its price is 30% cheaper than other mainly competitors in the market, but higher quality and better customer service. No hidden cost or charge, no more extra fee in future.

Affordable —The tool PDF to Flash Magazine for Mac is a cost-effective solution to digital publishing, provides many book design tools to help you to build more different pdf page flip E-magazines what your readers would like to see. No limitation on the number of books you create or sites you want to publish your magazine to.
Dependable —If you have any suggestion about our software, feel free to contract our support team. We will consider upgrading based on your feedback. If there is any problem when using the PDF to Flash Magazine Mac, you can also send us your question, our software engineer will be glad to help you.
3. It is Convenient, humanistic, and updateable!

Convenient —PDF to Flash Magazine Mac is very convenient to use, and also the output flash pageflip eBooks provide convenient tools for readers. Readers can click the share button on toolbar to share your book with their friends or followers on Twitter,Facebook,Google,LinkedIn, etc. They also can prin or download your books.

Humanistic —While using PDF to Flash Magazine for Mac, you can contact our customer service center([email protected]) via emails at the normal working time as you want. We provide our old and new users full service.

Updateable —After ordering the program, you can enjoy our free update policy forever. We will improve more quality versions with new features offered, and more templates and themes will be added for you later.
4. It's a wonderful E-magazine Builder!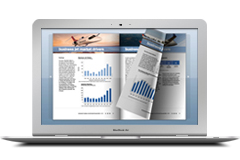 PDF to Flash Magazine for Mac offers real time conversion that is easy, affordable, and feature-rich. Our self-service solution can be easily tailored to meet your unique requirements. You'll be able to reach a broader audience by using the PDF to Flash Magazine for Mac, and your digital flip books will definitely catch every body's eyes!
Download PDF to Flash Magazine for Mac
and have a free try now. If you have any problem, feel free to contact us by email:
[email protected]
. Tell us your question or design needs, we will be glad to help to solve your problem and help you to be a professional
pdf page flip
digital magazine creating expert.
Features
PDF to Flash Magazine for Mac is feature-rich page flip software for you to create and manage interactive digital editions. The features include:
1. Links Import

PDF document's hyperlink will be imported into your Flash magazine simultaneously with the PDF import process. Just check "Import links" option in import window, PDF to Flash Magazine for Mac will detect URL automatically, including email addresses and other real hyperlinks.
2. Bookmark Import

With navigational bookmarks in flipping book, readers can quickly go to any desired page in your publications. PDF to Flash Magazine for Mac helps to import bookmarks from original PDF files. It brings convenience to you and readers.
3. Pre-designed Templates

PDF to Flash Magazine for Mac provides a set of pre-designed templates, if you don't have enough time to pre-edit, or you don't want to spend energy on setting template, just choose a proper template and theme directly. The pre-designed templates will save time for you and make extraordinary eBooks.
4. Embed sound and image Objects

Using PDF to Flash Magazine for Mac, you can embed MP3 sound as a background music, add brand or ad picture as background image. Besides, you can define the play times of your background sound. You can even play the sound all the time if you like to.
5. Enable Print, Download

Enable readers to have more access to your publication, you can set Print and Download features to allow book readers printing and downloading your digital magazine directly. This totally depends on how tight you'd like to control the circulation of your publication.
6. Email Share/Social Share

With page turning software for mac, you and your book readers can share your stunning magazine to friends and partners by email, or share your published book link on Facebook, Twitter, Yahoo, Google, LinkedIn and other website directly.
7. Google analytics integrated

Google analytics integrated is a wonderful feature that helps you to track your book reading data. Every "move" in your published magazine will be recorded. You will see which part of your book is being focused on. For another, it helps to measure advertising ROI as well as tracking everything in publications.
8. Language Switchable

You can set language for showing tools or tips in your created flash pageflip magazine while using the Mac page turning software. To make your book more flexible and international, you can use two or more kinds of language in your books by checking the Language Switchable option.
9. Interface Total Management

In the template design part, you can edit the style of your magazine with ease. It includes book background, title, logo and linked webpage, colors of toolbar, text font color, hard cover, and even flip book from right-or-left or left-to-right.
10. Mobile Version Output

Besides common HTML and APP formats, PDF to Flash Magazine for Mac also helps to make your amazing digital flash magazines to be accessed through mobile devices, iPhone, iPad, and Android. The more flexible output types will be able to bring the more potential readers and visitors.