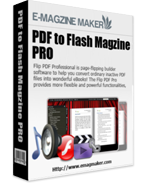 $299
For Windows 8, 7, Vista, XP

PDF to Flash Magazine Pro
Flash FlipBook Software to embed multimedia into pages!
Edit pages with links, videos, movies, images, shapes, text, flash, etc;
Come with a variety of free templates and themes;
Apply SWF flash scenes to flip pdf background;
Upload flash flip books online directly without output;
Customize toolbar with buttons;
Set unique music files for each pages as you want;
Present images in photo slideshow mode;
Provide serveral Action Options for each element you have inserted;
Provide multiple output types: HTML, EXE, ZIP and APP;
Enable to create Mobile Versiona for iPad, iPhone and Android mobile devices users;
Collect uploaded flip book into a bookcase;
Support virtual assistant speak the flip book;
Enable reader to add annotations on flip book or not;
To know more about the professional version, you can download the free trial version and have a experience of it right now!
Free TrialBuy Now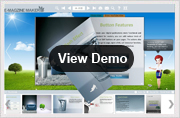 Flash Player 10.0+
Why Use?
Features
Screenshots
How It Works
Compare
PDF to flash magazine Pro is a powerful flipbook maker developed for designing flash flip book publications from PDF files. Create flash flip brochure, digital magazine and flip e-catalog from PDF files is an easy thing when using such good software. Its user friendly interface enables everyone to operate it skillfully in a short time.
New template for PDF to flash book software is new available! This is the free template of Ancient Egypt style for online magazine software.
PDF to Flash Magazine Professional has full standard functions, plus editing features that allow you to add:
Link
Shape (Line, Arrow-line, Ellipse, Rectangle, High Light Area)
Text (Plain Text, Callout Text, Animated Text)
FLV Movie
Image
Sound with three player skins
SWF file
YouTube video
Printable area
1. More Easily and Quickly
PDF to flash Magazine Pro enables you to easy and fast convert PDF files to Flash Magazines without any programming knowledge. Once opening the page flip book maker, you will see six main buttons: Import PDF, Edit Page, Apply Change, Convert to flip Book, Upload Online and Manage Online Books. Only three steps to complete designing your E-Magazine: Import PDF, Edit Pages and Convert to flip Book. Then a stunning flash page flip book will be done. The new-designed FlipBook Creator makes it more intuitive for users.
2. More Professional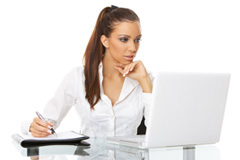 With 3 years' research and development, a more suitable and professional product about flash page flip software has been published. Compare to original standard edition and many other flash flipbook maker, PDF to Flash Magazine Professional version develops more powerful and excellent features to create amazing Flash publications. It supports inserting mutimedia into pages, uploading flip books online, applying flash scenes to background and so on. Moreover, you can build your wanted features in books with using Javascript function directly.
3. More Powerful
The PDF to Flash Magazine Pro has powerful function that you have never thought before. You are enable to insert Web Link, Page Link, and Email Link into pages, embed different images, music files, movie files, and flash SWF into any flash flip page as you want. More importantly, output flash flip book can be viewed in many browsers, no matter on PC, Mac or mobile devices (iPhone, iPad, Android) is OK.
4. More Convenient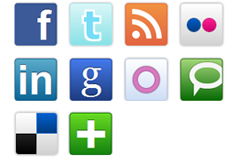 Share Ebooks created by PDF to Flash to Magazine Pro is convenient, either email share or social share could be used as readers want. It is very convenient to share your flip pdf magazine with more people on the internet. Besides the sharing feature, the software provides free templates and themes, from which you can choose your favorite one to create page-flip flash magazine more conveniently.
5. More Worthy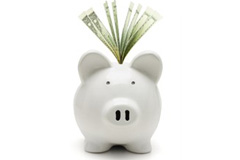 By using PDF to Flash Magazine Professional, you could make it to be a PDF to flash converter, a good presentation builder, a moviemaker, or even a Flash MTV integrator. Except for Flash Player needed, PDF to Flash Magazine Pro is an independent flip book maker that does not require any other third-party program. You can save a large amount of money if choose our Professional program.
6. More Efficient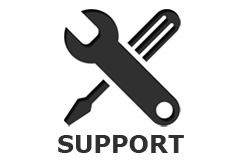 In PDF to Flash Magazine Pro, there are more efficient options which can help you to make your flip book more powerful and effective. Full-Text Search helps to locate the content fast, Bookmark and Thumbnail navigations, Zoom in, Zoom out, Full Screen and Minime presentation modes, Help image or flash show to provide more useful info, etc.
7. More facilities support services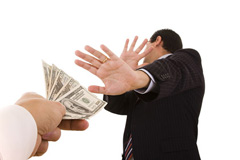 While using PDF to Flash Magazine pro, you can get support from many related facilities. Handbooks and video tutorials which are graphical and easy to use, guide you to create great flip magazines effortlessly. Besides, you can also send your questions to our support center at any time: [email protected].
8. Bookcase model goes with Upload Online Service
(New)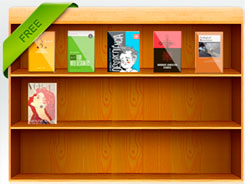 Upload Online Service enables users to upload created flip pdf books onto our server in a low cost or without payment. In the new version of PDF to Flash Magazine Professional, a free bookcase model is also embedded. All you online flip books will be collected automatically. They will display in the bookcase with company information, price, description, and so on.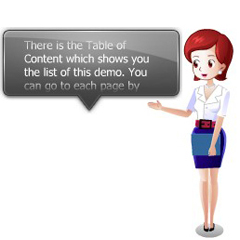 9. Realistic assistant helps to tell the story
(New)
Add audio text and then the audio engine will help to generate Audio Narration automatically. You are able to edit audio file for each page by editing audio text simply. An assistant will be showed in the right bottom corner and speak out the asides for you. This great feature is helpful for creating language study book, story book for kids, and presentation for meeting.
Features
PDF to Flash Magazine Professional is more powerful flip book maker for you to use many features in your Flash magazines. You will easy handle and use the wonderful features below:
1. Automate the converting progress via using the Command Line

Use the commander line mode provided by PDF to Flash Magazine to automate the converting progress. No need to open the GUI program any longer, just use the command line to process PDF file, choose template to use, output in your preferred format.
2. Make your book abundant with multi-media objects

Just imagine when your readers open your digital magazine, a soft, light music plays, or a video or Flash tutorial shows, the book will definitely impress the readers with these fresh and amazing multi-media objects. Use unique music, Flash, video, even YouTube videos on pages to bring more pleasure to flip book readers and would be a good tool to enhance the PDF publications reading experience.
3. Build flexible books with calling Javascript functions

Besides add multi-media objects directly on pages, you can also edit new buttons on pages to call javascript function, like play video, present images as slideshow in pop-up window, etc. This feature will make your book more flexible and different.
4. Insert Web Link, Page Link, and Email Link into pages

You can add different types links into pages, no matter external or internal links, even emails links, just set the type as "mailto:[email protected]" . This function is very useful to connect the book content with your website, product order pages, related information pages and so on.
5. Integrate Slideshow mode in photo gallery

Want to present your products to customers in every dimensional? No problem, just add an image slideshow to your products while building digital catalogs. The cool and efficient photo gallery will help to exhibit more details in a fresh and easy way.
6. Control your book totally with your own designs

In PDF to Flash Magazine Professional, you will be totally enabled to control the look of your books. Template, theme, background, color, even buttons on tool bar. Replace existing icons, or add new icons with calling new Javascript functions. Just give your books different lives with various design tool.
7. Set book unique metadata or contact info

About your book, or about author, about contact info, all these "about" things you can write into "About and Contact" window. You can use some "tags" to format the text, like text font, text color, hyperlinks and so on. Make your customers to get your info more conveniently.
8. Easy import and flexible export

Just three steps, you will find how easy there are that to create a amazing flip-magazine with PDF to Flash Magazine Pro. Find the PDF document in you computer, input them into software, and you will get a stunning magazine format with  *.html, *.zip,*.exe, *.app.
9. Mobile Devices Support

Besides viewing your book on PC and Mac computers, books created with PDF to Flash Magazine Pro can be read on mobile devices, including iPhone, iPad and Android. It is so convenient for you to get more book readers on Android market, Apple market.
10. Google Analytics Integrated

With adding your own Google Analytics ID while creating book in PDF to Flash Magazine Pro, you will be easily measure and analyze your published magazine visiting data for understanding and optimizing your web usage.
11. Email and Social Share Function

With Email and social share button enabled in PDF to Flash Magazine Pro, anybody who read your books online can easy connect Email account and social network to share your magazines with their friends or clients, via Email, Facebook, Twitter, Google, Yahoo, Del.icio.us, Digg, etc.
12. Bookmark and Text Search feature

The bookmarks help to browse your magazines and catalogues quickly, and you can also add bookmarks within the program yourself. After "Enable Search", your text content can be easily found out, different languages all support.
13. Batch Convert Function

Batch Convert Mode of PDF to Flash Magazine does exactly what its title suggests, allowing you to easily convert multiple PDF files at the click of a button, and quickly convert to many separate digital Flash magazines or just a merged Ebook, no other additional merge tool needed.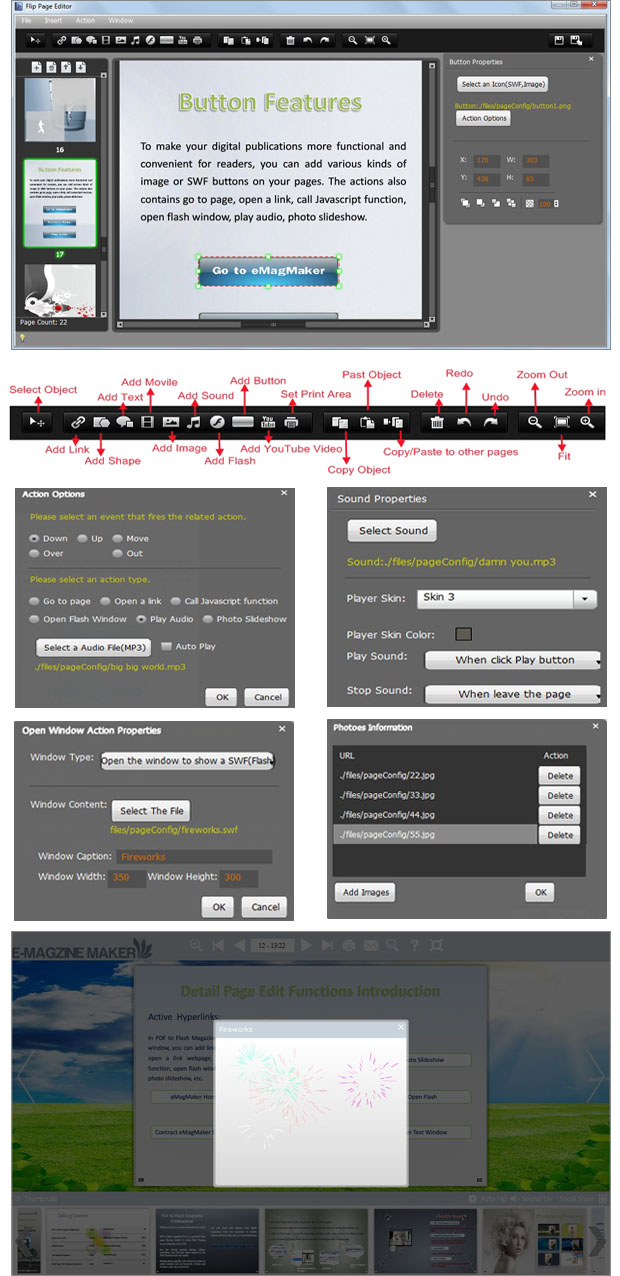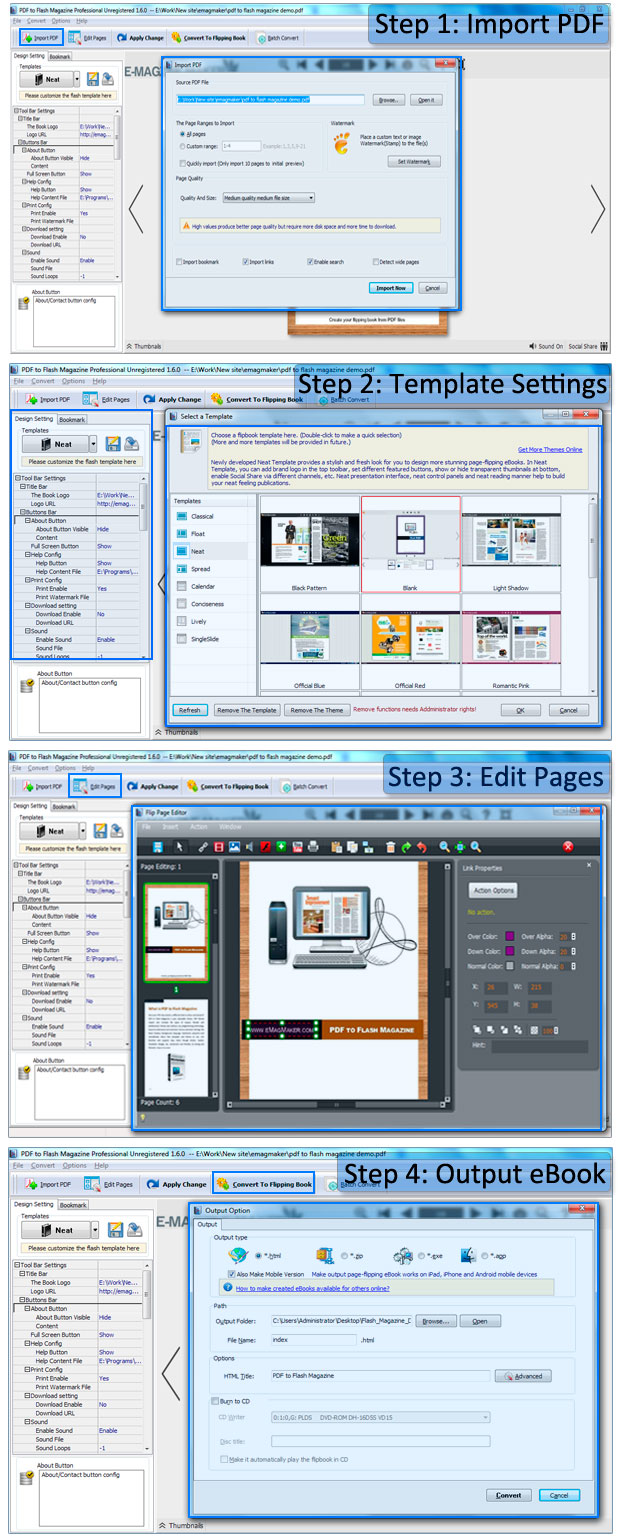 PDF to Flash Magazine VS PDF to Flash Magazine Professional

Item
Features
PDF to Flash Magazine
PDF to Flash Magazine Pro

1

Convert PDF files to Adobe© Flash® based page-flip eBooks

2

Output in different formats: HTML, EXE, Zip, Mac App, Mobile version and Burn to CD

3

Apply pre-designed templates

4

Batch convert multiple PDF files to single or multiple flip books

5

Import bookmarks, hyperlinks, email links, from PDF files

6

Add watermarks, text, image, dynamic date/ time

7

Add Image or Flash logo

8

Add HTML title containing hyperlink to webpage

9

Customize template details such as margins, background images, page display orientation, cover type

10

Add Help config to manually define content using images or SWF

11

Customize toolbar buttons to set permissions for downloading, printing, sharing and more

12

Export and save settings for future use

13

Choose from multiple languages for your flip book

14

Password protect your flip books

15

Add Minime style to display flip books without the toolbar

16

Include titles, keywords and other metadata for HTML output

17

Save themes for later use

18

Provide four templates:Classical, Float, Neat and Soread;

Download and install free online templates

19

Define the page thickness to make an real book effect

20

Add a Google Analytics ID to the HTML output format

21

Find setting item in the Design Setting panel with Search function quickly

22

Replace existing icons on toolbar by editing Icon Flash file

23

Add new icons to toolbar with calling actions

24

Add About button to show contact or other information

25

Insert images to the imported pages

26

Edit pages by adding links (web page/web/Javascript function)

27

Embed FLV movie and/or YouTube video

28

Add sound to specific pages

29

Embed SWF flash

30

Insert buttons on pages to link, call Javascript function, or play Flash or other video in pop up window

31

Use command line to convert PDF files without opening the application

32

Insert static or dynamic text, single or multiple photo slideshow, lines, graphics, buttons

33

Call Javacript, add notes, highlight a specific area, set print area

34

Add pages by importing image or PDF file, delete pages, and re-order pages

35

Add animated background scenes

36

Insert animated figure to narrate designated dialogue

37

Upload created flipbook online without export directly

38

Show uploaded e-book in a bookcase, design your own bookcase and upload the bookcase online

39

Allow readers to add annotations on flip pages