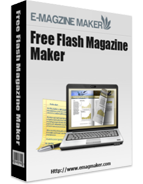 FREE
For Windows 7, Vista, XP

Free Flash Magazine Maker
Free software helps you create great page-flipping magazine!
Free Flash Magazine Maker
is
easy and free
flash magazine convert software that enables you to easily create page-flipping magazine. Besides design setting which help you to edit and control flash magazine, like add
background sounds
,
background image
, edit magazine interface by
use function button
, the program also can help you insert your brand logo, enable sharing result book online. And the various output format like
*.html, *.zip, *.exe
enable readers
reading on PC, Mac
or even at
mobile device
Download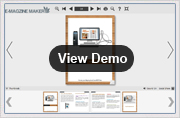 Flash Player 10.0+
Why Use?
Features
Screenshot
How It Works
Totally (100%) free software that you can use Free Flah Magazine Maker to create any type of magazine as you want:  christmas flipbook, birthday flash magazine, kid magazine, wedding magazine, flipping magazine, etc. Chioce us, there is no loss for you!
1. Powerful software and have many related software support
Free Flash Magazine Maker is very powerful software that could convert Texts (100% free) format documents to page-flipping magazine.
Emagmaker provides some other related software to support your different needs. Specil design for XPS, DOC, Office, Printable or even scanned files,etc. If you want more information or more function please download specify version.
2. Realistic page-flipping effect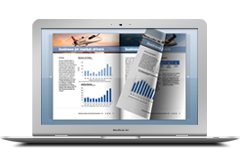 With Free Flash Magazine Maker, you will be enabled to create realistic page-flipping on digital devices like PC, Mac, mobile phones (iPhone, iPad and Android) etc. Just drag page corner to view books . The pages also can be flipped with mouse wheeling, one page after a page, looks like flipping a real book. Give you customers, readers a real flipping book reading experience on digital devices.
3. Outstanding End-user Experience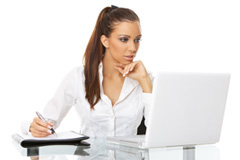 Your satisfaction is our eternal pursuit. With Free Flash Magazine Maker to convert eBook documents to a realit ypage-flipping magazine, the end-users will read the amazing books online as if they are holding an actual magazine in their hands. And also you can change the hardcover, background, even change the presentation template of your magazines to make them more life-like.
4. Professional Technical Team Support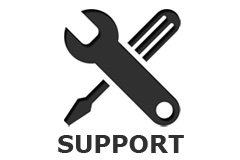 We have a team of best-in-class industry-certified software development professionals, which includes project managers, software engineers, testers and designers who can adapt to your every need. The use of advanced technologies coupled with our unique capability and innovation helps create quality custom applications and solutions for our clients.
5. No Hidden Cost or Charges
We can assure you that there are no hidden charges or extra cost with Free Flash Magazine Maker. We operate an honest, great value for money service, and all prices and terms are displayed clearly and are readily available on our website.
6. Friendly Customer Service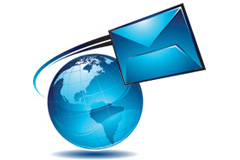 Emagmaker.com will provide friendly email service for you. If you encounter any problem or have any question, please contact our customer service team [email protected]. We are here to help you every step of the way. And also graphical, easy to use handbooks and wizards will guide you effortlessly through creating a great magazine.
7. Free, Free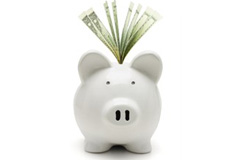 Free templates to download, We're provide many free templates to download, save a lots of many to create digital magazine sampler.
Free conversion forever, Different from others software in the market, we provide you permanent convert right once you purchased, No limitation.
Features
Free Flash Magazine Maker is totally free software, there is no loss for you. With Free Flash Magazine Maker you can enjoy powerful function in the procee of create flash magazine.
1. Customized Viewer Interface

With Free Flash Magazine Maker, you can customize page size, page color, font, font style, font size, fond color, etc.. You can work it in Design setting toolbar, in toolbar interface. your will can edit every tiny detail in flash magazine, change page interface in magazine.
2. Insert logo/URL in interface

Free Flash Magazine Maker enables you promote you product by insert logo/URL in interface. When the mouse over the URL or logo hyperlink, it will show advertise information.
3. Flexible Presentation Mode

Book font looks small to read on screen? Don't worry, PDF to Flash Magazine provides full screen mode for users. Besides, zoom in scale can be defined, and different zoom in levels can be used while reading. More considerate digital reading experience to bring to customers by using the wonderful eBook builder.
4. Google Analytics Integrated

You can embed Google Analytics to your published magazine, help to measure and analyze visiting data for each page, better understanding and optimizing your web usage.
5. Free templates download

In Free Flash Magazine Maker, you can either choose template from default integrated samples, or download more published templates from our website. Each template offers a set of pre-designed themes. And more free themes will be published later, you can choose your liked ones to build more elegant publications.
6. Email and Social Share Function

With Email and social share button enabled in Free Flash Magazine Maker, anybody who read your books online can easy connect Email account and social network to share your magazines with their friends or clients, via Email, Facebook, Twitter, Google, Yahoo, Del.icio.us, Digg, etc.
7. Various output model

With Free Flash Magazine Maker , there have many output model to choice, HTML allows you to upload to a website to be viewed online (with title, keywords and other metadata defined); EXE (with setting title, icon and open window size) and Zip allow you to send to your user by email to be viewed on their computer.
8. Mobile Devices Support

Besides PC and Mac users can view your published Flash magazines, mobile devices like iPhone, iPad and Android holders also support to view the eBook with ease. Imaging that your clients and business partners sit in a chair reading your 'real-book' digital magazine in electronic devices, enjoy the pleasure time!