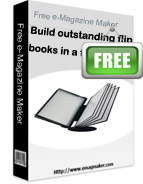 FREE
For Windows 7, Vista, XP

Free e-Magazine Maker
100% freeware to convert text file to attractive e-magazines!
This great free software we release today is very useful.
It can help to convert text files to attractive flip books within a few clicks.
You don't need to pay for download or update.


Download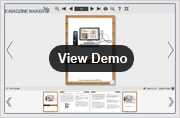 Flash Player 10.0+
Nowadays, e-magazines or e-books become more and more popular as the widely use of the internet. A great e-magazines maker is necessary for publishers. As a good publisher, you should know readers' needs well. The free e-Magazine Maker we release today may bring great help to you. It is applicable to all text documents. As all we know, text is a simple and useful format for documents. It is suitable for words description. So if you want to make description of products or any other information files, this freeware is a good choice for you. It will save you a lot of money and time. It also helps to make a page flip effect that your books will not be too long or boring to readers. Don't you think it is useful and helpful? Just download free right now.
Functions Introduction:
Make e-magazines from text files free and quickly;

Publish your works online, burn to a CD, or share with others via email;

Easy to operate so that you don't need to learn any professional skills;

Provide a user-friendly interface;

Design books according to personal needs.

You can download free templates from our Free Themes Homepage

For more free resources, please go to Free eBook Tools Page


Free e-Magazine Maker screenshots