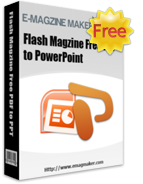 FREE
For Windows 7, Vista, XP

Flash Magazine Free PDF to PPT
Special freeware to batch converting PDF to PowerPoint!
Convert PDF files to PPT presentations fast and easy;
Total free to convert PDF document to PPT format;
Batch Convert Mode-Batch convert PDF files into PPT format;
Hot Directories Mode-runs background as a monitor and copy reflect process;
Command Line Mode-Using command line to convert PDF to PPT;
Retain all the layout, images, and hyperlinks in the output documents;
Produce an editable and dynamic PPT presentation with a few clicks;
Download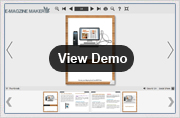 Flash Player 10.0+
Why Use?
Features
Screenshots
How It Works
Flash Magazine Free PDF to PPT
is design for those people who plan to demonstrate the PDF content like a PowerPoint presentation. With using it users can able to
add
some cool
transition effect
on the PPT file. With using Flash Magazine Free PDF to PPT, will make you PPT slideshow
outerstanding
. Just download
freeware
, and have a try!
1.Various Convert Mode choices

We're Provide three convert modes in Flash Magazine Free PDF to PPT, The Batch Convert Mode, Hot Directories Mode and Command Line Mode. Each convert modes have different functions and different convert way. You can choice any convert mode as you want according you needs. The Batch Convert Mode enable user batch convert PDF to PPT file, the Hot Directories mode can working as a monitor to reflect the each actions, and Command Line Mode let user convert PDF in CMD command box.
2.Easy and fast Converter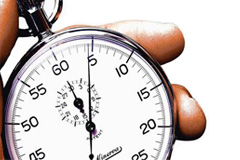 Using Flash Magazine Free PDF to PPT, you can convert ordinary PDF document to PowerPoint slideshow in easy and fast way. Choices the convert mode, and then drag the PDF files to the file list which you want to convert into PPT file and click the "Convert to PDF And Save as" button, a refresh PPD presentation has been created. No program skills need, just three steps, within 5 minutes enable you create PPT file from PDF documents.
3. Use-friendly&simple operate interface.

With Flash Magazine Free PDF to PPT, Simple click the apparent button on the use-friendly interface, and then you can get PPT files from PDF format documents. The software interface designed for user to very easy and convenient operate, every step is obvious and without any trick. First step choice convert mode, next select documents, and then convert to Word files.
4.100% Freeware

Have you ever wanted to make your standard PDFs editable with totally free software? With Flash Magazine Free PDF to PPT, give you 100% free guarantee commitment to free convert PDF to PPT documents which can be readable by Microsoft. No limits, no hidden charge. You can use Flash Magazine Free PDF to PPT to convert unlimited PDF files.
5. Wonderful Technical Support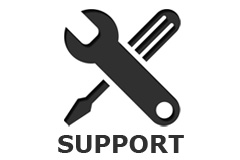 We have a team of best-in-class industry-certified software development professionals, which includes project managers, software engineers, testers and designers who can adapt to your every need. The use of advanced technologies coupled with our unique capability and innovation helps create quality custom applications and solutions for our clients.
6.Update Any Time That You Want

As our product continuously updates, your version might fall behind. But don't worry, you can download the latest version of the software from the Emagmaker.com at any time, update painlessly, trouble free and with no disruptive downtime.
8. friendly Customer Service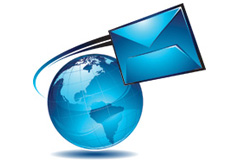 Emagmaker.com will provide friendly service for you. If you encounter any problem or have any question, please contact our customer service team. We are here to help you every step of the way. Email support from our in-house team is available to you at the normal time. Graphical, easy to use handbooks, wizards and video tutorial will guide you effortlessly through creating a great magazine.
Using Flash Magazine Free PDF to Word, you can enjoy the nine strong features. According those features, we get a conclusion that Flash Magazine Free PDF to Word is free, independent, convertible and retainable software. "Free" means freeware, Independent means independent software, "convertible" means various convert modes, and "retainable" means can retain original content and layout from PDF files.
1. 100% Freeware

When we say something is free, we're mean it. Flash Magazine free PDF to PPT is 100% Free which is our biggest feature different from others in the market, enable user convert PDF documents to word files for free, no hidden charge, no limit, totally free software.
2. Independent software

Flash Magazine Free PDF to PPT doesn't need other Third-party software support and total independent. In converting process, doesn't needAdobe Acrobat or Acrobat Readersoftware in Flash Magazine Free PDF to PPT.
3. Batch Convert Mode
Flash Magazine Free PDF to PPT provide Batch Convert for user to easy and fast convert large amount of PDF files to Word documents. Three steps to get result, select Batch Convert Mode→import the prepared PDF files→click the button Convert. Then, dozens of PPT files has been done.
4. Hot Directories Mode

The Hot Directories Mode is provide for user working on directories files, is a convert mode for a large scale of PDF files and frequent converting to PPT documents. It runs background as a monitor and doesn't affect your regular work.
4. Command Line Mode

Command Line Mode is an amazing function in Flash Magazine Free PDF to PPT. Use Command Line, you needn't you running convert application. Just input the path of the processing PDF file and output PPT path and name in the CMD Dialog Box, and it can be invoked by your applications.
5. Retain original Page Layout

Flash Magazine Free PDF to PPT dose retain original page layout from PDF documents. It can keep the original skeleton frame and content from the original PDF documents
7. All Windows Platforms Support

Flash Magazine Free PDF to PPT supports all windows platforms. In can be running on windows 95, windows 97, windows 2000, windows xp, win7, etc. It has a strong compatibility.
8. Automatically Resize PDF page.
Flash Magazine Free PDF to PPT helps you to good control the PDF documents size. When in converting process, it will automatically resize PDF page to fit your requirements.
9. Automatically loaded immediately.
When using Flash Magazine Free PDF to PPT , the converted files can be automatically loaded immediately after conversion complete. Your needn't spent few minutes to waiting for the PDF documents download.