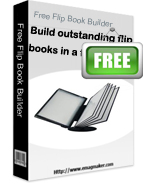 FREE
For Windows 7, Vista, XP

Free Flip Book Builder
Build outstanding flipbooks in a few minutes!
Create flash books with txt files;
Visual interface which makes it easy to design neat appearance;
Flexible output formats for different requirements;
Perfectly embeds pre-designed templates and music in it;
Free to use and no any plugin is plugged in. it's totally clean and reliable.
Download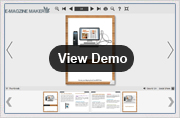 Flash Player 10.0+
Free flip book builder is an ideal program that enables publishers to transfer txt files into online flipbooks perfectly. There are comprehensive types of output formats for you to choose from. Adhering to the mission of providing customers with more useful tools, this flip book builder can bring super enjoyment to you. The tool bars and the design-setting panel can meet every personalization demand. You will receive unimaginable wonderful experience by three simple steps. In short, they are import, design and export. Everyone can do it well even without any professional skills. You also have the full right to define the book title and the book proportions, to import background images and beautiful music into e-magazines, and even to design the tool bar by your own style. You may be in need of such utility flip program now or future. Don't ever miss such a good opportunity to download.
You can download free templates from our Free Themes Homepage
For more free resources, please go to Free eBook Tools Page

Free Flip Book Builder screenshots