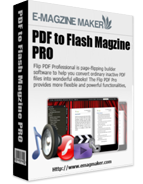 Price: $299

For Windows 7, Vista, XP

PDF to Flash Magazine Professional
Insert Web Link, Page Link, Email Link into pages;
Set unique music files for each page as you want;
Add Movies and even YouTube videos into digital Flash magazines;
Embed images into pages, and also provide slideshow mode to present the images;
Integrate Flash (flv,swf) with pages, easy show your ads, product tutorial, etc;
Edit new buttons to call javascript function, play video, slideshow in pop-up window;
Automate the converting progress via using the Command Line;
Change icons on the toolbar to your liked style;
Add unique features into your magazines by adding new icons into toolbar;
Show your company or contact info in ABOUT window.
Free Trial
Buy Now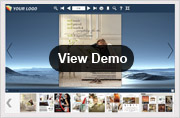 Flash Player 10.0+
Create Flip Books from Office Files
Office to Flash Magazine Professional is great flipbook creator. It is suitable to almost all kinds of office files. And there are powerful editing functions for editing multimedia elements into flash pages.

The video shows you simple steps to create stunning flip books from pdf file. Just have a look at it and enjoy the process!
For more detailed features:
1. Insert Web Link, Page Link, Email Link into each page as you want;
2. Add products tutorial, presentation, company promote films, video in flash magazine;
3. Directly embed YouTube flash video from internet, don't need to download video from Youtube.com;
4. Add images and provide slideshow mode to present the embedded images;
5. Different reading modes, zoom in/out ,Fullscreen, minime style, single/double pages;
6. Change book title, with brand logo icons and website URL.
For more information: http://www.emagmaker.com.