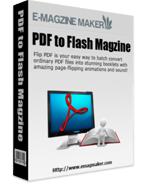 Flash Magazine Themes for White Flower Style
These white charming flower style templates are designed attentively.
They are all of high quality and loved by the majority.
You can download without any payment.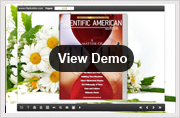 Flash Player 10.0+
Make Cool FlippingBook with white-flower-style themes
Today's white flower style templates are about blooming white flowers as its name. As everyone knows, the white color always stands for purity and holy good. Naturally, import themes which contain such lively background into your flash flipbook will bring a wonderful visual feast to your viewers. Thus, you can receive what you expect easily. You can see from the first picture that there are so many beautiful white chrysanthemums blossoming under the blue sky. People will feel relaxed and comfortable with such fresh background. Compared to the first one the second picture shows more quiet temperament. And what the third picture shows is about the tree with full cherry-flowers. You can even smell light fragrance when using these themes for your flipping magazines. It is really difficult not to be tempted. Isn't it?
To use Themes & Template, you must install PDF to Flash Magazine Pro frist!
You can also reference to Order FAQs for more details about purchase.
White Flower Themes Screenshots