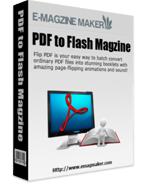 Flash Magazine Themes for Simple Elegant Style
Simple elegant style theme for flash flipping book is online now.
This is a newest pre-designed template series we release for you.
Enjoy the free download and the quick importing right now!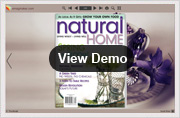 Flash Player 10.0+
Make Cool FlippingBook with Color Bubble Style Themes
Flash magazine themes for simple elegant style are released finally. It is designed carefully of a totally different style from any others themes we provided before. Three templates are included in this series. Just have a look at the below screenshots and you may understand that why we call it as simple elegant style template. There is not gorgeous image which will dazzle your eyes. Though, you will be attracted by this special one which can bring a comfortable feeling. You should try to get out from the pressure and release your heart now. No any other thing is more important than enjoying your live. Let's take some flowers to decorate our flipping book and transfer the optimistic attitude towards life to readers together.
What's more, you can download this package free and pick out the one which you like and import it into your flash magazine in a quick way. It is applicable to both PDF to Flash Magazine and PDF to Flash Magazine Professional. I really hope that it is able to bring you a good mood!
To use Themes & Template, you must install PDF to Flash Magazine Pro or PDF to Flash Magazine at frist!
You can also reference to Order FAQs for more details about purchase.
Simple Elegant Themes Screenshots