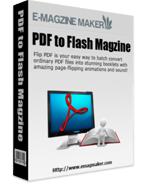 Flash Magazine Themes for Music Style
Cheerful music style flash magazine themes are pre-designed just for you.
They are of natural elegance and concise interface.
You can download without any payment.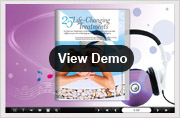 Flash Player 10.0+
Make Cool FlippingBook with music-style themes
Do you like music? I believe that the answer is yes for many people. Today we release the music style flash magazine templates just for you. You can see from the screenshots that there are even musical notes in the background images. A smooth kind of music will make us calm down and ease tension. When you are in blundering mood, listening to some smooth music is a good choice. Again, a cheerful music will measurably raise your heart rate and elevate your mood. So when you are upset, you might listen to some cheerful music. Music even can wash away the soul's dust of everyday life at another level. You can download these themes free to make your online digital magazines a real turn page effect now. You e-books may need these music style templates sometimes. This will not spend you much time. You can transfer your DFP files to flash flipping magazines with our PDF to Flash Magazine Pro in a few minutes.
To use Themes & Template, you must install PDF to Flash Magazine Pro frist!
You can also reference to Order FAQs for more details about purchase.
Music Themes Screenshots