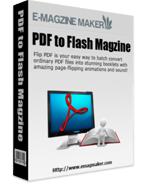 Flash Magazine Themes for Butterfly Style
These flash magazine templates for beautiful butterfly style are so lovely.
They are the best free themes for creating your flipping magazines.
And easy to download and import.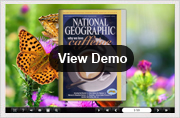 Flash Player 10.0+
Make Cool FlippingBook with butterfly-style themes
Are you worry about there are no enough beautiful themes for your flash magazines? Are you confused that there are not good quality templates you can import to your flip pages? And now, these beautiful butterfly style themes will be the ones what you are seeking for. You can see from the screenshots as follow. The butterflies are colorful. They fly among flowers. It gives a remarkable impression to your readers. We can even be affected by the butterflies' life. They are tininess but of strong vitality. The free templates are fully customizable and you just need to download and import them into your e-magazines directly. There is no any other design setting in need. You can create professional works from now on. In addition, even being a new user, you can use our PDF to Flash Magazine within a couple of minutes without any special learning.
To use Themes & Template, you must install PDF to Flash Magazine Pro frist!
You can also reference to Order FAQs for more details about purchase.
butterfly Themes Screenshots