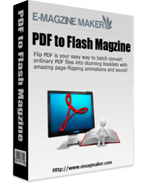 $99
For Windows 8, 7, Vista, XP

PDF to Flash Magazine
Convert PDF to stylish and interactive flipping e-Magazine!
PDF to flash magazine is a standard flip book maker. It gives you an easy way to convert plain PDF documents to flash pageflip digital magazine!
Transforms static PDF files into flipping digital publications;
Import PDF and export multiple flash flipping books flexibly and professionally;
Open output folder feature works as open project;
Easy to understand, easy to operate, easy to use, and no any programming technology is required;
Continually update free templates and themes, rich facilities and support;
Come with dozens of dynamic scenes for background;
Easy to share your flash book through Emails, Twitter, FaceBook, Google, etc;
Impress your customers and readers by remarkable digital flash magazine;
Support upload flippingbook online directly onto eMagMaker server;
Display online flipping book in virtual bookcase;
Support colorful bookmark tabs navigation.

Free TrialBuy Now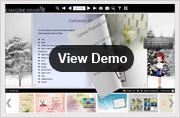 Flash Player 10.0+
Why Use?
Features
Screenshots
How It Works
Compare
PDF to Flash Magazine can create realistic page flipping e-Publications including E-books, E-Magazine, E-Brochures, E-Catalogs, E-Reports and E-Newsletters from PDF. It will help you quickly convert pdf to flipbook for the ipad, iPhone,and Android mobiles, and bring realistic page flipping experience to your users . Moreover, you can use the software online, offline( on your PC,Pad etc), burn flash flip book to a CD/DVD or use it with an USB device.
New template for PDF to flash book software is new available! This is the free template of Ancient Egypt style for online magazine software.
You also can get free pdf to html5 flipbook, more see : PUB HTML5
In addition to common standard features, PDF to Flash Magazine also has some outstanding features which distinguish it from others:
Protect original PDF contents
Pre-designed scenes for background
Open output folder to open created project
Upload flipbook onto our server
Apply assistant of e-magazine with text and audio
Apply online templates and themes
Display all digital magazines in our service in bookcase

(New)
Create colorful bookmark tabs with caption and page index

(New)
Enable reader to add annotations(Text Note, Brush, Rectangular, Elipse and Eraser) when they read the flipping book

(New)
Here are the 6 benefits of using PDF to Flash Magazine page flip software!


1. Easy to Use
Firstly, import PDF file to the software. Original contents include hyperlinks, table of contents and search feature are protected.
Secondly, select a flipping book template. You can choose one from the pre-design templates and themes we update online.
Thirdly, output your digital magazine as HTML/EXE/ZIP/APP format. You can upload the created HTML pdf to flipbook online directly in the software without output. If there are many PDF files, the Batch Convert feature will be helpful.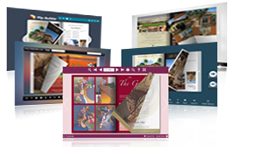 2. Easy to Control Interface
A large number of flash book templates and flash book themes are free to use;
Customize the styles you like;
Download the more free flash flip book templates from our website;
Preview your design in the flash window of the software.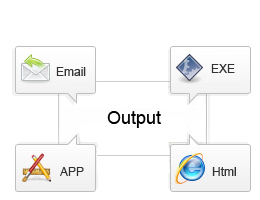 3. Support Multiple Output Formats
Support four output formats: HTML, ZIP, EXE and APP formats;
Make flash magazine in Mobile Version works on iPad, iPhone and Android mobile devices;
Upload HTML flash book to allow people access to it online;
Send ZIP flash book to others via email;
Open the EXE flash pageflip book directly without extra player in the Windows system;
Open the APP flash book directly without extra player in the Mac OS.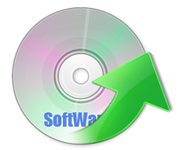 4. One Time Payment, Free Update
Free conversion. Once you have purchased our software, you can convert unlimited PDF files to flash magazine. No any extra money will be required any more.
Free update. You can enjoy free update service whenever there is a newer version. Our company will continue to update new features to meet your needs.
Free support. Anytime you have question about using the software, please feel free to contact us.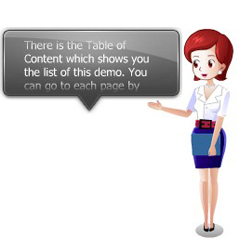 5. Assistant of E-magazine with Text and Audio
You can Add Audio Narration to each page of your flipbook. Just edit audio text and our software will generate audio file for you automatically. This feature is helpful for people who want to publish story e-book for children, presentation for meeting, and online learnning book.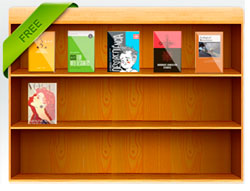 6. Display onine flipping book in bookcase
Bookcase model is embedded into the PDF to Flash Magazine. All page flipping books you upload onto our service will be collected automatically and display in the bookcase. You are allowed to design your own bookcase freely. The professional bookcase will show company information, book thumbnails with prices, and more.

7. Increasing your sales and profits
You can create
flash flip book
from your brochures and magazines. It will give your customers a good visual effect. Then a good impression will help to keep your clients and attract new customers. Many of our clients have expressed that they had got benefits from using the PDF to flash magazine software. What's more, you can increase distribution of your HTML flipbook by completing the
Meta setting
for it. And the
Google analytics tool
will help to tracking your content effectively.
Features
PDF to Flash Magazine is low-cost, simple and quick-to-learn software that allows editors and publishers to produce professional page-flipping Flash Books easily on PC. And PDF to Flash Magazine is proven software that has now been successfully used and continuously updated over the past 3 years.
1. Easy Import

PDF to Flash Magazine is very easy to operate. Just import the PDF file into the program, then an amazing flash page-flipping magazine will be created with your personal designs. Furthermore, you can import your previous projects directly. And also you may download free themes to use in the program. 
2. Maintain Original Hyperlink, Bookmark and Text Search feature

Import hyperlinks, bookmarks and text content from original PDF files. Readers can click the hyperlinks to go to web pages directly, or email you by your email links. The bookmarks help to browse digital catalogues conveniently. And Enable Search feature makes it easy to find specific information in a quick way.
3. Flexible Export

There are flexible export options for you to choose from in PDF to Flash Magazine:
*.html allows you to upload online or view offline; *.zip is easy to send by email; *.exe is single executable file for you to run on PC individually; *.app is executable format for you to run on Mac individually.
4. Mobile Devices Support

Besides PC and Mac users, mobile devices like iPhone, iPad and Android holders also can view your flash pageflip eBook with ease. What a pleasure time it is to read the virtual digital magazine on tablet devices. The Mobile Version brings considerable convenience to your customers and readers.
5. Google Analytics Integrated

PDF to Flash Magazine add the Google Analytics feature which can help you to collect, measure, and analyze your published magazine visiting data. You can do market & business research to be more prepared to design better-targeted web pages, strengthen your marketing initiatives and create higher converting websites.
6. Email and Social Share Function

With Email and social share button enabled in PDF to Flash Magazine, anybody who read your books online can share your flipping magazines with friends and clients via Email, FaceBook, Twitter, Google, Yahoo, Digg, etc.
7. Various Templates to be Chosen

In PDF to Flash Magazine, you can either choose template from default integrated samples, or download more published ones from our website. Each template offers a set of pre-designed themes. And more free themes will be published online by eMagMaker.
8. Search information from flash magazine

It is very complex to get the product location in you page-flipping pdf to flipbook , even though you know its item number. With full-text search function, you can turn to product page by inputting related keyword in search engine quickly.
9. Switch magazine language for readers from different countries

It doesn't matter if you or your clients are not English users, the software enables languages switch to meet your needs. We have embedded several common languages such as English, Chinese, Korean, Italian, Turkish, Spanish, Arabic and Turkish into it. You can also add and define your own languages.
10. Create mini flash magazine to embed to web page

Do you want to embed a mini page-flipping flash magazine demo on existing web page to promote you product? With using the PDF to Flash Magazine, you can create product catalog or digital magazine and embed it into webpage. But to use this feature, please remember to choose HTML as the output type.
11. New Magazine Design Concept

In PDF to Flash Magazine, there are dozens of simple-to-use settings based on different templates:
Tool Bar Settings to control the title and buttons on tool bar; Flash Display Settings to manager page-flipping magazine background, display position, margin, etc; Flash Control Settings is to control security and so on.
12. Flexible Presentation Mode

Book font looks small to read on screen? Don't worry. PDF to Flash Magazine provides full screen mode for users. Besides, zoom in scale can be defined, and different zoom in levels can be used while reading. More considerate digital reading experience is brought to customers by using the wonderful eBook builder.
13. Save for Later Using
Delay your book editing work to another day? No problem. Just save your current file and template settings as a project, import and edit again later. Want to save your carefully designed book style to use in later publications? No problem. Just export the template settings as your own theme, then import into Template to use directly.
14.Add security options to protect you flash catalog

If you think your page-flipping magazine are private documents and you just want share with your friends that trust, you can use flash control settings to set the security to protect you private document or every single catalog page!
15. Batch Convert

Batch Convert Mode of PDF to Flash Magazine does exactly what its name suggests. It enables you to easily convert multiple PDF files at a click of a button, and quickly convert to many separate digital Flash magazines or just a merged eBook, no other additional merge tool is needed.
Screenshot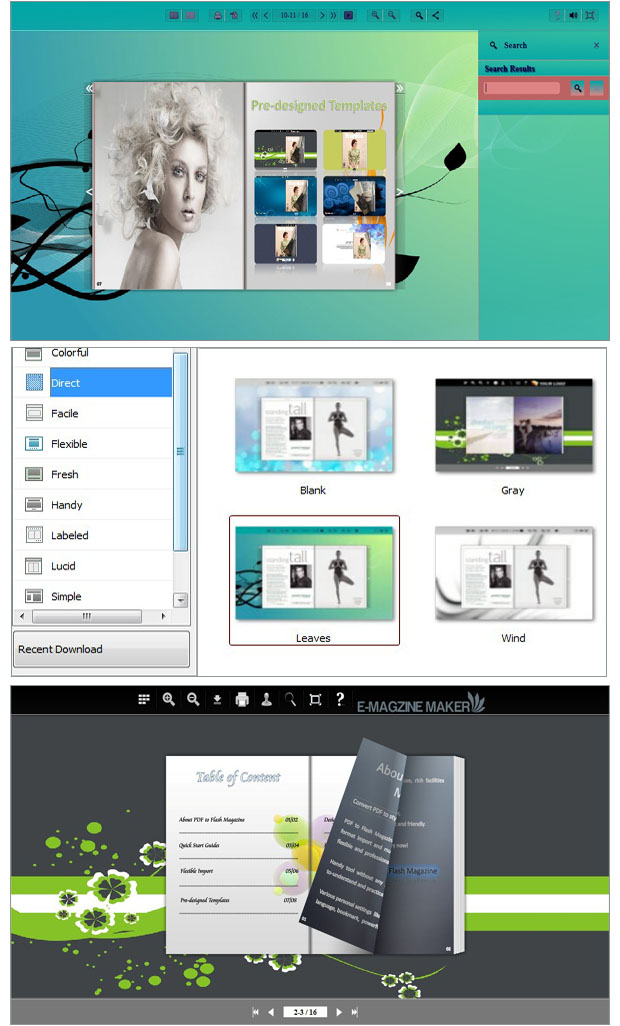 How it Works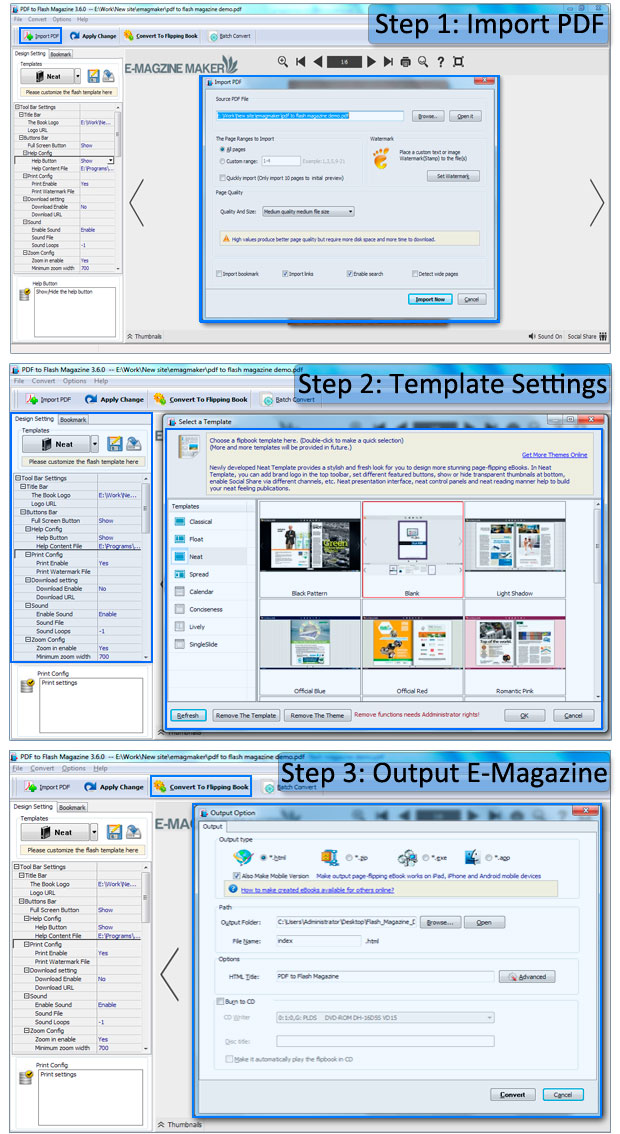 PDF to Flash Magazine VS PDF to Flash Magazine Professional

Item
Features
PDF to Flash Magazine
PDF to Flash Magazine Pro

1

Convert PDF files to Adobe© Flash® based page-flipping eBooks

2

Output in different formats: HTML, EXE, Zip, Mac App, Mobile version and Burn to CD

3

Apply pre-designed templates

4

Batch convert multiple PDF files to single or multiple flip books

5

Import bookmarks, hyperlinks, email links, from PDF files

6

Add watermarks, text, image, dynamic date/ time

7

Add Image or Flash logo

8

Add HTML title containing hyperlink to webpage

9

Customize template details such as margins, background images, page display orientation, cover type

10

Add Help config to manually define content using images or SWF

11

Customize toolbar buttons to set permissions for downloading, printing, sharing and more

12

Export and save settings for future use

13

Choose from multiple languages for your flip book

14

Password protect your flip books

15

Add Minime style to display flip books without the toolbar

16

Include titles, keywords and other metadata for HTML output

17

Save themes for later use

18

Provide four templates:Classical, Float, Neat and Soread;

Download and install free online templates

19

Define the page thickness to make an real book effect

20

Add a Google Analytics ID to the HTML output format

21

Find setting item in the Design Setting panel with Search function quickly

22

Replace existing icons on toolbar by editing Icon Flash file

23

Add new icons to toolbar with calling actions

24

Add About button to show contact or other information

25

Insert images to the imported pages

26

Edit pages by adding links (web page/web/Javascript function)

27

Embed FLV movie and/or YouTube video

28

Add sound to specific pages

29

Embed SWF flash

30

Insert buttons on pages to link, call Javascript function, or play Flash or other video in pop up window

31

Use command line to convert PDF files without opening the application

32

Insert static or dynamic text, single or multiple photo slideshow, lines, graphics, buttons

33

Call Javacript, add notes, highlight a specific area, set print area

34

Add pages by importing image or PDF file, delete pages, and re-order pages

35

Add animated background scenes

36

Insert animated figure to narrate designated dialogue

37

Upload created flipbook online without export directly

38

Show uploaded e-book in a bookcase, design your own bookcase and upload the bookcase online

39

Allow readers to add annotations on flipping pages