17. How to embed a YouTobe video into flip books?
Q: A flip books which is including melody and video would be attractive. Sometimes I have found funny video which is relevant to my e-magazine in the internet. It will be great if I can add it into my flash books. We may also want to share something with others sometimes.
A: You need to obtain the video ID at first. And then embed the video into your book with simple steps as below.
Step1: get the video ID from the video address as below.

Step2: click the Edit Pages button in the PDF to FlashBook Professional top tool bar.
Step3: click the Add YouTobe Video button and draw an area for the video.

Step4: enter the video ID and click Refresh in the right side window. You should choose the video object to show this small window. Customize the other properties, click save and exit the Flip Page Editor window. Until then, the YouTobe video embedding is finished.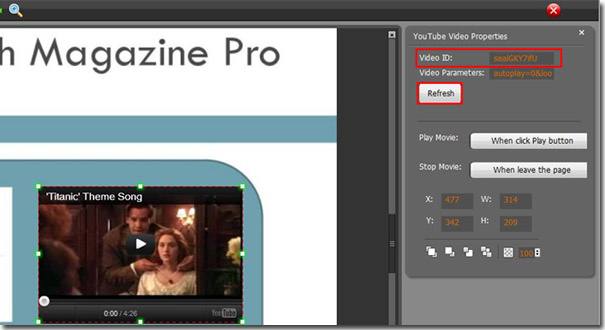 *Please be aware that you have to click "Apply Changes" to apply any changes to the flash book.
Download PDF to Flash Magazine
Download PDF to Flash Magazine Pro