13. How to use the Search function of the PDF to Flash Magazine Professional?
Q: I have found a problem that the search function of the PDF of Flash Magazine Professional is not available. No matter what I fill in the blank to search for, I can't get a result. What can I do about this? I really need to find some content of my flash flip book fast.
A: There are several steps you should do before searching. We design this function to our users to meet different demands.
Step1: make sure that you have choose the "Enable Search" option when importing the PDF file.

Step2: find the "Search" group in the left panel. Make sure that the value of the "Search Button" bar is "show". Or you may not find it in the flash window. And define the color and character as you want.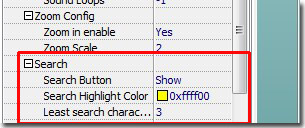 Step3: click the "Search" button in the flash window tool bar to open the search window.

Step4: fill in the content what you want to search, you will find that it is very easy and fast.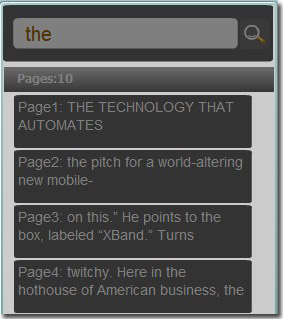 *Please be aware that you have to click "Apply Changes" to apply any changes to the flash book.
Download PDF to Flash Magazine
Download PDF to Flash Magazine Pro