85. Can I integrate Google Analysis ID into my flip books?
If you have ever used Google Analysis, you would know that it can help to monitor the traffic that you website brings. When our flip books are planned to publisher online, we also want to know more about its traffic. So our product provides you such a function to integrate Google Analysis ID. Please be aware that it is active only for html output type.
1 Launch magazine maker, PDF to Flash Magazine Professional;
2 find Google Analysis ID bar in the bottom of the left panel and type in the value;
3 apply change and the convert pdf to flipping book in html format.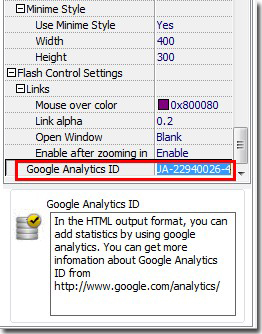 *Please be aware that you have to click "Apply Changes" to apply any changes to the flash book.
Download the PDF to Flash Magazine
Download the PDF to Flash Magazine Pro
Download the PDF to Flash Magazine Mac