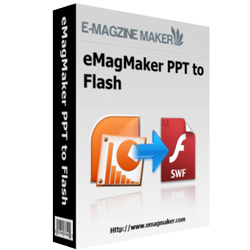 FREE
For Windows 7, Vista, XP

eMagMaker PPT to Flash - freeware
Excellent value freeware for converting PPT to stunning swf flash!
Available to all kinds of PowerPoint files;
Provide dub feature for giving commentary to PowerPoint;
Provide dozens of slide transition effects;
Support previews the result in advance;
Allow to add attachments for users;
Provide basic editing functions such as edit text, shapes, sequence, etc.
Transfer PDF to flipping book: PDF to Flash Magazine
Download
EMagMaker PPT to Flash is great PPT converter. It is able to create gorgeous swf flash from PPT. It provides full functions including record, transition effect, attachment, preview, editing, and so on. The result will be attractive even though it is a freeware. It is suitable for not just teachers but office workers. It would be helpful in class, or meeting, or any other occasions. Users can download free and then operate it with ease. Making a totally different out looking for PPT file would be realized easily. It is fresh to view such an attractive works too. Viewers could open the attachment file to find more information if necessary. Users can open the output swf file with IE explorer or flash player. You can find that the play window is professional as screenshot below. EMagMaker PPT to Flash is really worth having!
Go ahead to learn more detailed features of eMagMaker PPT to Flash:

1. transfer PPT to dazzling SWF flash which could open with IE explorer and flash player;
2. enable add description and attachment, and embed code into output file;
3. provide dozens of image transition effects to make the slide more attractive;
4. define image transition time and retain time freely;
5. record audio narration for each slide;
6. set company logo and company website; edit presenter's name, email, website, and information; show or hide company logo, author information, and slide list in the left of play window;
7. edit the slide with text, shapes, sequence icons, high-light part, and adjust the size for each slide;
8. allow previewing the result before conversion;
9. provide user-friendly and nice interface;
10. Provide zoom in/out tool for editing and view easily;
11. provide three output types: html, zip, and exe;
12. the output swf file also has a nice interface, views can find thumbnails of slides, presenter information, and attachments in the player window.

Do not hesitate to have a nice experience with eMagMaker PPT to Flash!
Screenshots about eMagMaker PPT to Flash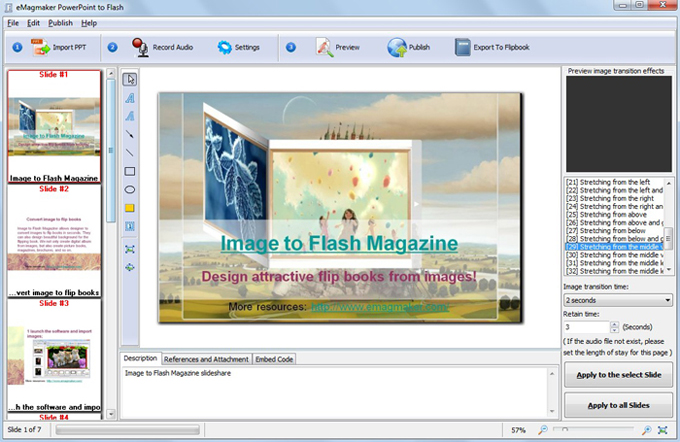 Open the output flash file: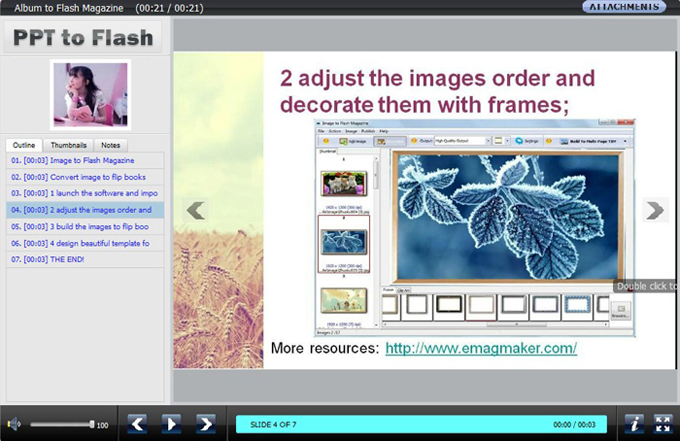 Download free eMagMaker PPT to Flash:
In the meantime, if you want to convert PDF files to flip books which can be viewed online and offline with browser, design beautiful themes to decorate the e-publications, a professional magazine maker is necessary. You can have a free try of PDF to Flash Magazine Professional or PDF to Flash Magazine. For Mac users, please refer to the Mac version, PDF to Flash Magazine Professional for Mac.
Screenshot about PDF to Flash Magazine Professional