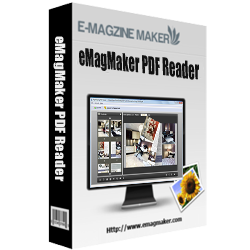 FREE
For Windows 7, Vista, XP

eMagMaker PDF Reader - freeware
Free application helps to show PDF files with real page flipping effect!
Available to all PDF files;
Support Auto Flip Mode for reading conveniently;
Support thumbnails show or hide in the left window;
Provide search function to find information quickly;
Allow zooming in;
Able to flip PDF page with real page flipping effect.
Transfer PDF to flipping book: PDF to Flash Magazine
Download
EMagMaker PDF Reader is the newest freeware we provide this week. PDF document is commonly used in office. But to open it with normal adobe application might not able to meet your needs now. Free reader we provide now can make a total different for PDF file. Free download and users are able to import PDF file quickly. Then you can flip the page like a real book with your mouse. Large file can be also imported within a few minutes. It supports Auto Flip mode for reading conveniently. Thumbnails can be showed in the left window to give overview information about the book. For some small fonts, the zoom in feature will be helpful. In short, eMagMaker PDF Reader gives you a fresh way to read PDF file. Stunning flash effect is the most outstanding feature of it.
For more detailed feature, please refer to following introduction:
Import and read any PDF files;
Support zoom in function to get more information from PDF file;
Support Auto Flip mode for doing reading easily;
Show or hide thumbnails in the left flash window;
Able to print all PDF pages, current page, or define print range according specific needs;
Provide help information for green hand;
Flip to specific page in a second by entering page number in the top number box;
Able to go to first and last page by clicking "First" and "Last" buttons.
Provide search function to enable users to search information in a quick way;
Flip PDF pages with mouse like real book.
Screenshots about eMagMaker PDF Reader
Import PDF file: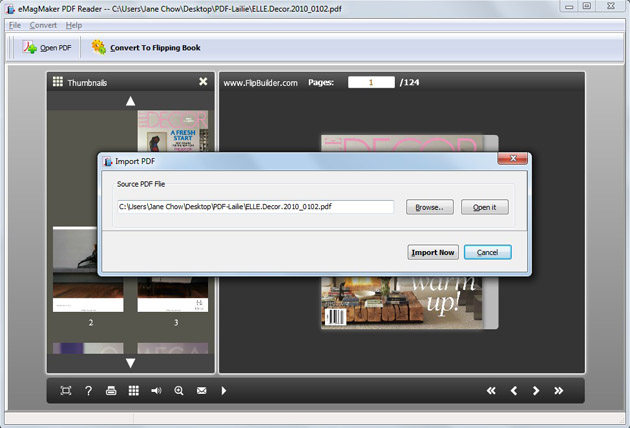 Interface of eMagMaker PDF Reader: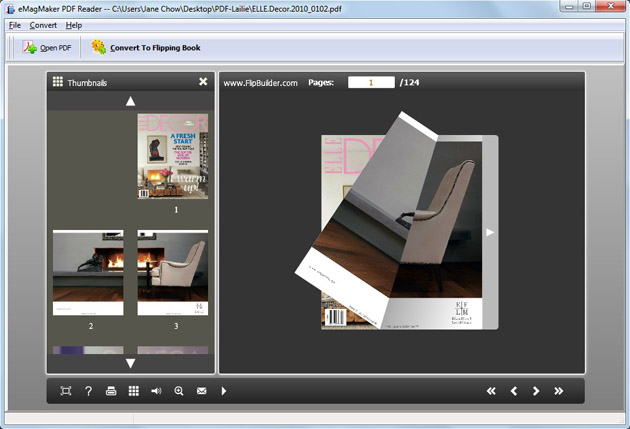 In the meantime, if you want to convert PDF files to flip books which can be viewed online and offline with browser, design beautiful themes to decorate the e-publications, a professional magazine maker is necessary. You can have a free try of PDF to Flash Magazine Professional or PDF to Flash Magazine. For Mac users, please refer to the Mac version, PDF to Flash Magazine Professional for Mac.
Screenshot about PDF to Flash Magazine Professional