Three Steps to Create Flipping Book
Have you ever converted PDF document to flash book? And do you know that not only the PDF document, but also the Word, PPT, Photo, and even Text file can be built into attractive flash flipping book? Flipping magazine is getting increasingly popular these days. So it is no wonder that there are some people are looking for useful ways about how to make it.
Step1 – find an applicative flip book creator
In order to improve the efficiency, to install a good software is an essential thing for you. This is a critical initiative to create digital formats of any books, magazines or documents. It is obviously that an advanced application will help to make full use of time, money and energy. In a word, a good software we mean here is one which is easy to operate and able to design professional book. However, the most important is that it must be able to satisfy all your requirements. So you should be clear about what you need at first.
Step2 – customize the flipping book with this great software
Import a PDF document and start to design it according to your mind after you have installed the flip book creator. Usually, you could customize your own flash magazine appearance with image, link, animation, video and music. And to design a concise interface for readers is very important. You can define the tool bar with buttons personally. We suggest you to add a search button to bring convenience to users. And functions such as "Enable FullScreen", "Thumbnails", "Zoom in", "Social Share" and "Print" are frequently used features to users. All in all, a flipping book with beautiful appearance and user-friendly interface will gain huge popularity.
Step3 – convert and upload the works
By then, you have finished the most of work. Should you have chosen some good software and designed an outstanding flip book, converting and uploading is not a difficult job. What we would like to remind you is that you should open the flash flip book to check if it can flip smoothly. For example, if you have added a video to your book, you can try to play it before upload. Do this checking work again after uploading. Because we should make sure that we have provided a good flipping book to readers.
Are you ready to make your own flip book now? Visit http://www.emagmaker.com/index.html to have a free try. To learn more about flash magazine software, you can get to more blog posts in http://www.emagmaker.com/blog.html.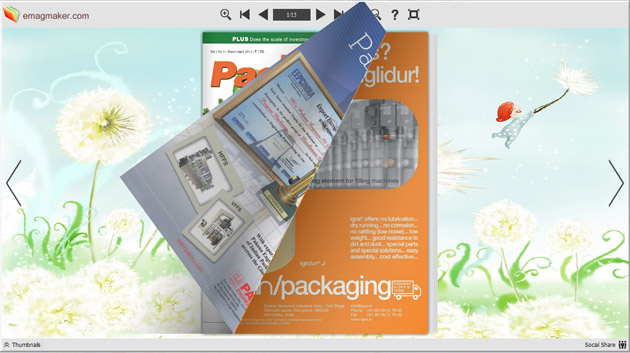 Have a free try on PDF to Flash Magazine
Make flipping book on Mac: PDF to Flash Magazine Pro for Mac
Download free beautiful flipping book templates:Themes 2012
Free Download PDF to Flash Magazine
Free Download PDF to Flash Magazine for Mac
Free Download PDF to Flash Magazine Pro
Free Download PDF to Flash Magazine Pro for Mac