Make Full Use of the Flip Page Editor
It is really great that there is a flip page editor for you to make excellent flipping book easily. The book content will not be so tedious with some multimedia objects embedding into it. This small tool which is contained in the PDF to Flash Magazine Professional is as useful as professional PDF editor. So you don't have to install any PDF editor any more. But you must be clear that it is not a text editor. Then how can we make full use of it? Let's learn more about this today.
There are eight main features: Add Link, Add Movie that plays FLV, Add Image, Add Sound, Add SWF, Add Button, Add YouTobe Video, and Add Printable Area. The operation process of each feature is similar. So you only need to know one of them. Let me make the "Add YouTobe Video" feature as example for you to reference here. Whenever you want to add an object into the flip page, you should click this button and draw a frame for it at first. So click the "Add YouTobe Video" button in the tool bar and then draw a frame in the page where you want to show it. A YouTobe Video Properties window will be showed in the right side. Fill in the Video ID such as "Sr7S3N8CNAE" in the blank. You can get the video ID from the YouTobe video address. For example, if the URL is "http://www.youtube.com/watch?feature=player_embedded&v=Sr7S3N8CNAE", then the video ID is "Sr7S3N8CNAE". You must know how to get a Video ID until now. And after that, you should click "Refresh" button, and then do any others settings as you like. You can also drag your mouse to change the location and the size of this object.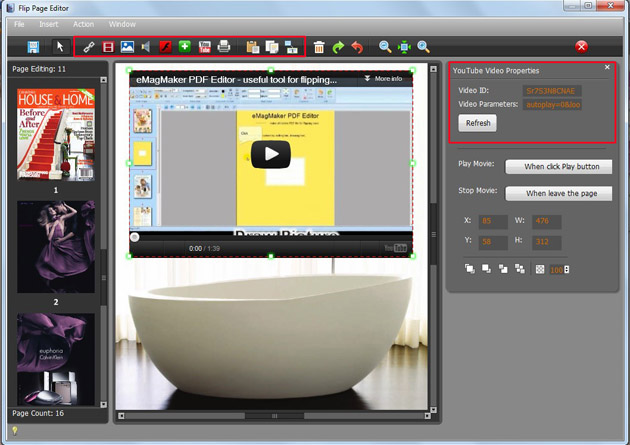 Besides, I would like to introduce you three useful copy and paste tools. Be sure that you have chosen one objet before any process. Then click "Copy the selected objects" button or use the shortcut key "CTRL+C" in your keyboard to copy, transfer to the page which you want to past this object, click "Past the current objects to the current page" or use the shortcut key "CTRL+V" to finish pasting. You can also past the object to several pages at one time by the "Copy/Appy the selected objects to other pages" feature to improve the efficiency.
That's all about the flip page editor. Have a nice try to create excellent flipping book right now!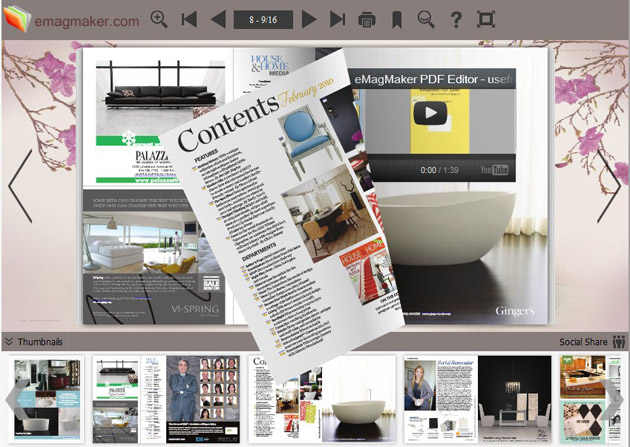 Have a free try on PDF to Flash Magazine
Make flipping book on Mac: PDF to Flash Magazine Pro for Mac
Download free beautiful flipping book templates:Themes 2012
Free Download PDF to Flash Magazine
Free Download PDF to Flash Magazine for Mac
Free Download PDF to Flash Magazine Pro
Free Download PDF to Flash Magazine Pro for Mac