Advantages of the PDF to Flash Magazine Professional
Let's make a comparison between PDF to Flash Magazine and PDF to Flash Magazine Professional today. We can notice simply from the names that the second one is a much more professional flipping book maker. If you need to make a more attractive works, I would like to suggest you to use the professional version. Now let's learn more about it first.
One of the most outstanding features of this software is that a useful flip page editor is contained while there is not a standalone editor in the standard version. You can add an object into the page easily. For example, you can add a link to lead readers to get more details in your website. And an image is allowed to make a beautiful appearance. If you have made a Youtobe video which is relevant to your flash book, you can also embed it to the page by using the Video ID easily. Besides, a sound file to make a comfortable atmosphere, a SWF file to make an animated effect, a button to call an action, and a printable area that enable readers to print the page are all helpful functions we designed for you.

Furthermore, the professional version is of course a mature product which is more powerful and excellent than any others. The performance will be perfect and the stability is good. It is much more suitable for professional flash flip book publishers. If you are online publications publisher, I would suggest you the professional version. And if you are small business users or individual users, I would suggest you the standard version. Though, you should make your choice according to the actual situation.
Have a summary, the PDF to Flash Magazine Professional allows users to edit the flipping book with some multimedia objects to increase the sense of beauty. It is much easier for you to make a fabulous works with it too. You can go to http://www.emagmaker.com/pdf-to-flash-magazine-pro/index.html to know more about this wonderful software.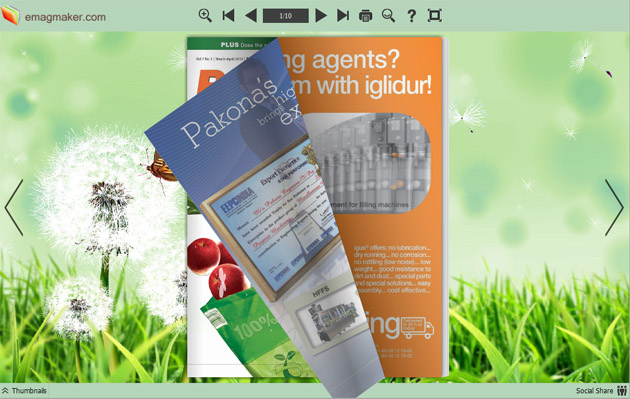 Have a free try on PDF to Flash Magazine
Make flipping book on Mac: PDF to Flash Magazine Pro for Mac
Download free beautiful flipping book templates:Themes 2012
Free Download PDF to Flash Magazine
Free Download PDF to Flash Magazine for Mac
Free Download PDF to Flash Magazine Pro
Free Download PDF to Flash Magazine Pro for Mac