A Great PDF Editor for Flipping Book
PDF, which is short from Portable Document Format, was created by Adobe systems twenty years ago. This file format makes the reading and navigation of a document very easy. If you have read the e-book, you may have known that it is transferred from pdf format. So as to online publications publishers, firsthand experience with pdf files is necessary. To create good flipping book, you should make good pdf file at first. Then how to choose the right PDF editor becomes an important thing. Today, we would recommend you a useful and small editor which named eMagMaker PDF Editor.
The editor we designed for you is lighter and cheaper than any other kinds of pdf editor. The ultimate goal of it is to convert pdf to flash book. So it is suitable to those who want to transfer the pdf file to flash e-book. You can enrich the content of the file before converting such as editing text, adding images, hyperlinks, and inserting shapes into the pages. Its toolbar is designed user-friendly. You can even save your book as a project for re-edit easily later. This is one of the most useful features. If you are looking for a PDF editor, this one is a good choice. Pdf editor has become a necessity since pdf file has become today's standard for printable web documents.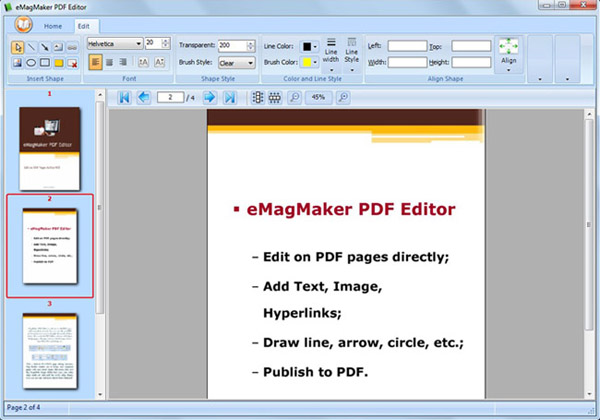 To make you know well about how to use this software, we have also prepared a YouTobe video for you. It shows you some simple and basic editing processes. You can have a look at http://www.youtube.com/watch?v=Sr7S3N8CNAE. After finishing the edit work, you can convert the pdf to stunning flipping book quickly.
Have a free try on PDF to Flash Magazine
Make flipping book on Mac: PDF to Flash Magazine Pro for Mac
Download free beautiful flipping book templates:Themes 2012
Free Download PDF to Flash Magazine
Free Download PDF to Flash Magazine for Mac
Free Download PDF to Flash Magazine Pro
Free Download PDF to Flash Magazine Pro for Mac